Chances are you're still working on your holiday shopping, and if you're reading this blog, you most likely have a few pets and pet owners on your list.
We always have pet travel on the brain, so you bet we have a few gift suggestions that will make your
holiday pet travel
plans run a little smoother. Have some fun with these gift ideas, and happy holiday traveling to you all!



Pet Travel Gift Basket
includes a dog bowl, baggies and tasty-to-your-pup treats like "Duck 'n' Rice Ringles" and "PupPuccino treats".
This
portable pet house from Animal Planet
is made of soft foam and is easy to assemble -- perfect for bringing along to grandma's house.
The
Thunder Shirt
provides a gentle, constant pressure to a dog's body, and according to many pet owners, has a calming effect that makes travel and stressful situations -- like thunderstorms -- much easier to handle.
*Note:
PetRelocation.com
has never shipped a pet wearing a thunder shirt, but we've heard of people who have (
KLM
is apparently open to allowing them). If you're traveling with a sensitive pup, just check before you go to see if your thunder shirt will be allowed.
Traveling to colder climates and worried about your pet's paws? Protect them from the elements with these sherpa/suede fully lined
Pet Boots
.
Make things easy on yourself by picking up a carry-all for the various accessories you'll need for your big holiday trip. This functional bag by
Doggy Baggage
has multiple pockets and a cute design.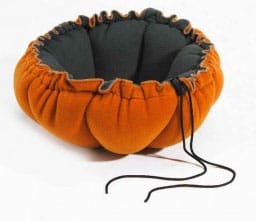 And last but not least (because they probably don't travel quite as often but kitties do hit the road sometimes), here's a great cat bed for the feline owners out there. The
Eco-Buttercup Bed
can be adjusted so that it's either flat or a snuggly buttercup shape, depending on your cat's preference. Hat tip to our Facebook fan Kim for bringing our attention to this one!
What are you getting your pet (or favorite pet lover) for Christmas? Tell us about it on
Facebook
!