Pets at SXSW: Parties, Panels & More
Tomorrow SXSW officially begins, so downtown Austin, TX is preparing for thousands of visitors who will be here to talk about tech trends, put faces to twitter handles, see as many bands as possible, and/or sit down for a dozen or more films. There's something here for just about everyone, and considering that the event happens right in our own backyard, we thought we'd ask the obvious question. What role will pets play at SXSW?
First of all, we're having a party! If you're in the Austin area on Friday, March 8, you're invited to stop by our Get & Give Yappy Hour co-hosted by PetRelocation and PetMate and benefiting a great cause.
After you check in on Yelp or Foursquare you're welcome to come on in, make a $1 donation to Austin Pets Alive!, and then have some fun! We'll have beer and snacks, pet toys from Petmate, and you'll get to hang out with your fellow pet lovers and check out our brand new Experience Room. The event goes from 3:30 to 5:30 (here's the Facebook invite). We hope to see you there!
Attending the SXSW Interactive Conference? It looks like the influence of pets is definitely creeping into the realm of the internet (in case you hadn't noticed). One panel, called "#catvidfest: Is This the End of Art?" discusses the popularity of internet cat videos and the incredible power they have to bring people together. Is this trend ridiculous, or is there something to be learned here about business and social interaction? Attendees will try to figure it all out.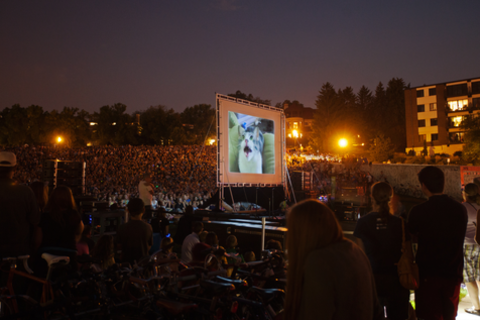 Most notably for some, the one and only Grumpy Cat will be making an appearance -- not at a formal panel but at the Mashable House for a Friskies advertisement taping and party. The details are still a little murky about who is invited and what exactly is going down, but it's safe to say that people in Austin are very excited to meet this famous frowny-faced kitty cat.
A quick internet search reveals several unofficial pet-related SXSW events, including the Cats Live Here Happy Hour hosted by Animal Planet on Saturday, March 9. Also, on Monday, March 11 Bay Woof, a San Francisco newspaper/site for dog lovers, will be having a gathering at dog-friendly Spiderhouse near the University of Texas.
Based on the overall pet-friendliness of many Austin bars and coffee shops, you'll surely spot many a dog at the hundreds of events on the official and unofficial SXSW schedule, so be sure to treat them well and say hello.
Exciting stuff. Be sure to follow us on Twitter for more SXSW-related updates, and if you have an event to add, let us know!